A baseball player needs baseball gear to play a game, and baseball gear includes helmets, gloves, baseball, cleats, gloves, and bats. A hitter uses a bat to hit a ball in the air to score points.
There are different types of baseball bats based on raw materials such as wood, aluminum, composite, and hybrid bats. Baseball bats also come in different styles, such as one-piece, two-piece, or three-piece bats.
Baseball bats used in American leagues have a diameter of about 2.6 inches and a length of not more than 42 inches. Also, when purchasing baseball bats, various brands produce bats.
Baseball brands include:
Louisville Slugger
Rawlings
DeMarini
Easton
Combat
and many more.
BBCOR Bats
BBCOR stands for bat-ball coefficient of restitution, and it is a standard for bat performance. It measures the trampoline effect of the barrel and how it affects the exit speed of the ball. BBCOR certified bats have the inscription "BBCOR Certified .50."
Features of BBCOR Bats
BBCOR bats are for high school and college leagues. The features of BBCOR Bats are as follows:
Generally composite and alloy bats.
Can either be end-loaded or balanced bats depending on their weight distribution, and there are different styles of bat.
Bat styles can be one-piece, two-piece, or three-piece.
The bat's drop weight is also significant, and it should not exceed -3 for college leagues.
There are various examples of BBCOR bats depending on the manufacturer. They include:
DeMarini CF
Combat Maxum
Easton Maxum Ultra
Louisville Slugger
For more information about Bbcor bats, check out: BBCOR bats review
Combat Maxum BBCOR Review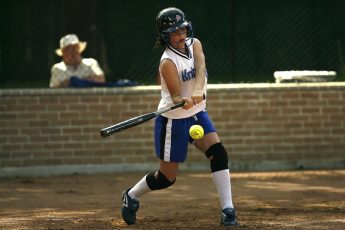 The Easton Company produces Combat bats by merging different technologies from the Combat brand with the Easton bat-making process to create highly effective bats. Combat bats are composite bats with designs for effective performance and large sweet spot sizes. The Combat Maxum BBCOR is one of the numerous bats made by Combat.
Features of Combat Maxum BBCOR
The Combat Maxum is a composite BBCOR bat with different features, which include
Large Sweet Spot
A large sweet spot is necessary for players who have not mastered how to hit a ball correctly. When there is a mishit, there are vibrations in the bat, which may cause pain for the player, but a large sweet spot minimizes the occurrence of a mishit. A large sweet spot also increases plate coverage.
Length to Weight Ratio
A -3 length to weight ratio and bat size range between 30 and 33 inches. The length-to-weight ratio of a bat is also known as the drop weight, and it is the negative difference between the bat weight in ounces and the bat length in inches.
The bigger the drop weight, the lighter the bat. High school and college baseball players use bats with a drop weight of -3, and the bat allows the drop weight helps a player hit the ball harder and farther.
An Inch Barrel
A large barrel diameter creates large sweet spots on a bat, and this helps a bat hit far and wide
BBCOR Certification
BBCOR means bat-ball coefficient of the resolution, and it is a certification for composite or non-wood baseball bats. High school and collegiate leagues allow only BBCOR-certified bats in baseball leagues. The Combat Maxum bat comes with a BBCOR certification.
One-Piece Design
One-piece design bats can be stiff, but the Combat Maxum is a flexible bat due to the precision molding technology used in the manufacture. This technology prevents baseballs from bouncing back very hard
Balanced Swing Weight
Swing weight gives a player maximum force and speed, which increases the distance covered by a ball. A perfectly balanced swing weight offers greater control for players especially contact hitters
Disadvantages of Combat Maxum BBCOR
Although the Combat Maxum uses precision molding technology, the bat has a large sweet spot that reduces the vibration in case of a mishit. The little vibration that goes down the length of a bat can cause stings for players.
Another con of the Combat Maxum is that it may not be the best option for power hitters who use end-loaded bats usually.
However, the bat is perfect for young and unprofessional players because it has better hitting results and covers a larger plate area.
You may also be interested in Best youth baseball bats in 2021
Conclusion
BBCOR bats are very efficient in increasing ball velocity and distance. Combat Maxum BBCOR bat has all the characteristics of a BBCOR bat. However, the bat uses precision molding technology in its manufacture, and this technology increases flexibility in one-piece bats.
The Combat Maxum has a great price compared to other bats of the same quality and a warranty. The bat is great for contact hitters and young players who have not mastered hitting a ball.
Let us know what you think about Combat Maxum BBCOR bat in the comments below.